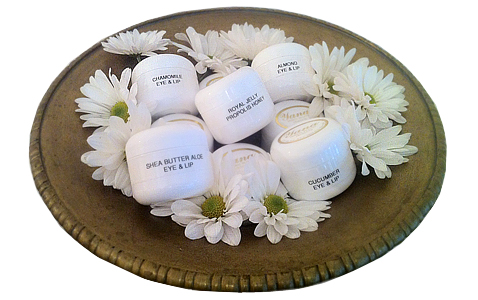 Eye & Lip Creams
Yana's eye and lip creams keep lips and the fragile area around eyes moist and supple. Versatile enough to reduce wrinkles on mature skin and work as a preventive on younger skin. These creams can also be therapeutic for the skin around the throat. May be used day and night.
Price: 2 oz - $35
Extra Rich Royal Jelly, Honey and Propolis
Eye, Lip and Throat Cream
This extra rich formula prevents and conquers dry, wrinkled and sensitive skin. An all-natural solution for aging, dry and sensitive skin. Contains no mineral oils, alcohol, fragrences, preservatives, parabens and formaldehyde. Rich in powerful antioxidents. Miraculously rejuvenates skin. Can be used as a thin layer day and night. Reapply as needed.
Cucumber Eye and Lip Cream
Excellent anti-wrinkle cream. Made with cucumber, papaya, botanical extracts, and propolis. A refreshing, soothing, hydrating, clarifying and protective cream for the delicate eye and lip areas. Keeps fragile eye and lip areas silky and nourished.Use in a thin layer day and night.
Rose Eye and Lip Cream
Perfect for dry, or aging skin. Made with rose, sweet almond and maple extract. This luxurious cream makes fragile eye and lip skin silky soft. Apply a thin layer day and night.
Almond Eye and Lip Cream
For fragile, aging and dry areas on lips and around eyes. A rich cream made with sweet almond oil, propolis, calendula, and papaya essential oils. The rejuvenating ingredients help restore moisture and elasticity to the delicate eye and lip area. To be used in a thin layer, day and night.
Chamomile Eye and Lip Cream
Great for fine lines and swelling. Uses chamomile, propolis, and calendula essential oils. Delicate, nourishing and protective cream is ideal for day or night, and can be used beneath make-up.
A New York City sales tax of 8.875% will be added at the time of purchase to all prices listed.