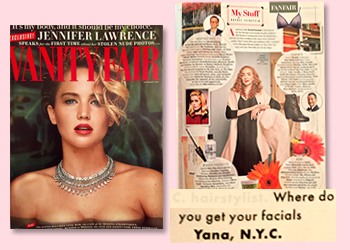 Reviews in Publications:
Vanity Fair
November 2014, p.115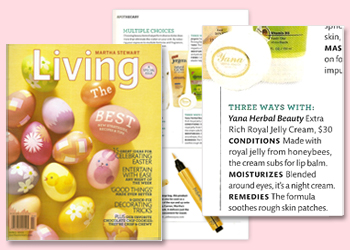 Martha Stewart Living
April 2010, p.46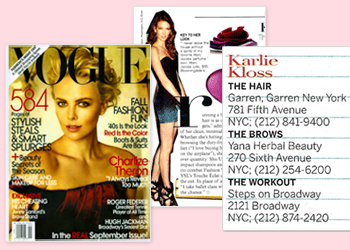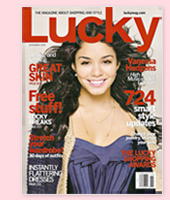 "Most face washes are too harsh for me, but this all-natural cleanser is loaded with sweet almond oil. It's creamy, totally gets rid of makeup, moisturizers, and leaves my skin feeling great"
Charlotte Rudge, Charlotte's Skincare Rules
Lucky, November 2008, p.166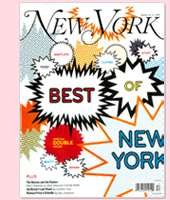 Best No-Nonsense Facial
Yana Herbal Beauty Salon
270 Sixth Ave., nr. Bleecker St.
212-254-6200
"Yana Yusupidi is a tough-love facialist, which means you shouldn't expect to doze while she's doing extractions. But the techniques she's using on your face come from years of study with her mother in their native Georgia. This is old-school, no-frills skin care, with instant results. She mixes and sells her own all-natural elixirs and tonics and dispenses them according to the dermatological ailments presented. A basic one-hour facial is $95, but Yusupidi's specials (for acne, dry skin, and so on) are all $120. There's also a $65 mini-facial that lasts half an hour."
Best of New York
March 10-17, 2008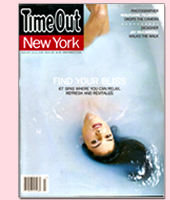 "Growing up in Soviet Georgia, Yana Yusupidi learned her trade from her mother and is now passing the knowledge on to her daughter Elena. Yana's touch is familial, her potions are all made from family recipes, and everyone is greeted by name and with a hug. Plus she gives a mean facial."
Alia Akkam and Jane Borden
Time Out New York, February 16-22, 2006, p.23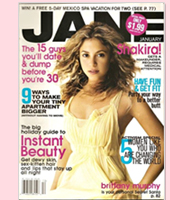 "New York facialist Yana (who does Sarah Jessica Parker) suggests matching your face scrub to your pore size because if the grains are too small they won't penetrate properly, and if they are too large, they can irritate."
Jane, December 2005/ January 2006, p. 64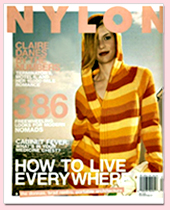 "Although having your bikini line inspected by a stranger can be slightly awkward, getting a Brazilian wax at Yana Herbal Beauty Salon in Manhattan is almost, well...fun. For one, the
all-natural room-temperature wax made from honey, sugar, and lemon juice is incredibly gentle on sensitive skin. And although on an given afternoon you might spot the likes of Sarah Jessica Parker, Marisa Tomei, or Cicely Brown waiting in the recepetion area for a manicure, pedicure, electrolysis, wax, facial, or massage, Yana doesn't cater only to the glitterati. All women deserve to have their skin pampered, she says. Not only is the staff amazingly warm, unpretentious, and well informed, but the Greenwich Village salon also carries Yana's own line of skin-care products (top-secret recipes have been in her family for over 50 years). Our own personal favorite? The royal jelly propolis honey cream. Apply it at night to dry skin, and in the morning, you will be a whole new woman"
Molly Rosen, Nylon, May 2003 p. 63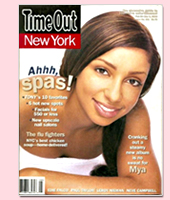 "All of the facials at this small West Village salon are performed by Yana herself, and even a 30-minute treatment is an educational experience — each stage of mine was followed by an earnest, 'How does it feel? Good?' Yana learned her techniques (and the recipes for the product she uses) from her mother, who performed facials for 54 years in her native Russia. What sets Yana's offering apart is the invigorating face, neck and chest massage that concludes the treatment. 'Massage stimulates the face muscles and nerve endings,' Yana says, adding 'Of course, it feels good also.'"
Margaret Feldstein, Time Out New York
February 24-March 2, 2000, p. 28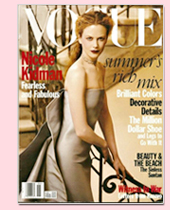 "If you should happen to spot Sarah Jessica Parker, Georgina Grenville, Alba Clemente, or Rupert Evertt scurrying down lower Sixth Avenue in Manhattan, don't assume they're on their way to lunch at the perennially trendy Da Silvano. They might be heading to Yana Herbal Beauty Salon, an unassuming storefront two doors away. Never mind that there are only three treatment rooms; you can usually get and appointment 24 to 36 hours' notice. Also welcome is the homey character of the place courtesy of Yana Yusupidi, a Georgian émigré who learned her craft from her mother, a facialist for 54 years in the USSR."
Vogue, June 1999, p. 164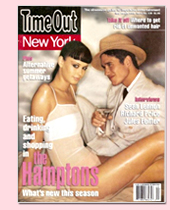 "You know you're in a different kind of leg wax when your esthetician offers you a taste of the goo she's about to use on your legs. At Yana, customers can choose traditional hot wax or, as I did "sugar"—a soft, candylike concoction of melted honey, sugar and lemon. As I lay with bared legs on the table, Helen (owner Yana Yusupidi's daughter) brought out a small pot of the sugary stuff, which her Russian grandmother cooks at home, and urged me to try some. She then took a scoopful in her bare hands, slathered it onto a small section of my leg and pulled the gummy wad off in a deft motion. I experienced the same stinging that I had with wax, but her friendly chatter helped to take my mind off the pain. (The method, which dates back to Egyptian times, takes years of practice. Women who try to do this on their own, warns Helen, often end up with messy glob of honeyed sugar stuck to their legs.) Since the process is all natural, it's ideal for women who are allergic to chemicals, and because the mixture is applied at room temperature, sugaring is also a smart choice for women who have problem with capillaries (hot wax may bring them out). Helen also claims that the sticky sugar grabs hair follicles better and results in a longer regrowth period. For me, the best aspect of sugaring was the end; My legs were like a kid's face after eating cotton candy—just a quick wipe with a moistened towel, and I was ready to go."
Milena Damjanov, Time Out New York
May 21-28, 1998, p. 30
Reviews in Online Publications:
Mentioned in Books:
"Beautiful Skin of Color: A Comprehensive Guide to Asian, Olive, and Dark Skin" by Jeanine Downie, M.D., & Fran Cook-Bolden, M.D. with Barbara Nevins Taylor, Published 6 /14 /2005
"Fat Resistance Diet: Unlock the Secret of the Hormone Leptin to: Eliminate Cravings, Supercharge Your Metabolism, Fight Inflammation, Lose Weight & Reprogram Your Body to Stay Thin", by Leo Galland, M.D., Jonathan Galland, Published December 2006
Reviews from Some of Our Clients:
"I first discovered Yana's salon 6 years ago on my trip to New York. I went in for a facial and a pedicure — both of which were performed with meticulous expertise. My face felt better immediately and I decided to buy some herbal beauty products. In my life I have used a lot of different beauty products, and as a medical doctor, I am very particular about the results I expect. Yana's products have consistently improved my skin; my sun spots have disappeared and my skin feels and looks young, and replenished. I will not use anything else and highly recommend her salon and her products to everyone."
— Inna Barg MD
"Yana's salon is a gem among huge, factory like chain salons that are just looking to get you in and out. Sure it's small, but the second you enter it, the lovely smell of oils and herbs starts to relax you. I have been going there for around 2 and a half years for facials and waxing. Yana herself is a funny, smart, and warm person. Her facials leave me feeling beautiful and pampered, and make my tempremental, oily/dry combo skin literally glow and breathe!
I also recommend the waxing with Helena. Though not painless (that would be a miracle) it is very quick and thorough. They specialize in the cold wax, but I prefer the regular old hot stuff."
— Nadia N
"I was very impressed with this salon. After a bad facial at another salon, I tried Yana...my coworker gave me her gift certificate. Yana is very skilled and experienced at her trade having been trained by her mother in the former USSR. She truly cares about skin care and it shows. Although all of her facials cost the same, they vary each time depending on your skin's needs. Her products smell divine and when she says deep pore cleansing she means it. I have neglected my poor skin...we both look forward to being pampered at our next facial with Yana and witnessing the recovery of my complexion."
— Lisa Kisner
"I've been going to Yana for 16 years for waxing, facials and eyelash tinting. The salon is a friendly, clean, herbal sanctuary! My 4 year old son loves Yana's chamomile oil. You don't have to take my word for the wonderful services and products —Yana's clientele of models, actresses/actors and drag queens is proof she's truly 'The Best of NY'"
— Sheryl Nelson
"I have been coming here for nearly seven years and this is my only destination for waxing in NYC.
I know that the women reading this will appreciate the selfless act I am undertaking here by sharing the secret that is Yana.
And it's not really that big a secret — Yana has hosted a most impressive A-List celebrity clientele for longer than I've gone there.
Using a wax that just doesn't hurt as much as other places and with techniques honed over the years, it's the most tolerable, and longest lasting, Brazilian wax I've ever had.
Facials — using products made by the prorprietors — are also amazing and if you are a fan of intense glycolic, you can get a most active glycolic here.
Just don't try to steal my appointment. And tell them that Kate sent you. Seriously, I don't mind."
—Kate Hurley